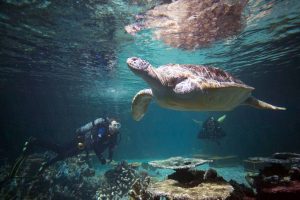 Fall Scout Day at the National Aquarium
Everyday upon visiting, guests may travel to an Australian river gorge, descend through an Atlantic coral reef, explore a tropical rain forest, discover dolphins and sharks, and interact with animal experts. During our Scout Day, there will be even more programming available for all scouts who attend!
On Saturday, September 16, the National Aquarium will welcome scouts to partake in scavenger hunts and bird walks with our education team to learn about some of the local species and habitats in Baltimore City. They will have the opportunity to stop by one of our classrooms to help an animal expert craft enrichment toys for our program animals and have the chance to discover and learn about nearly 20,000 animals that call the National Aquarium home. All scouts will receive a complimentary patch for the day!
Please come join us to explore aquatic habitats from around the world in the Aquarium's exhibit galleries and discover a world behind the glass.
For more information please visit aqua.org/scouts