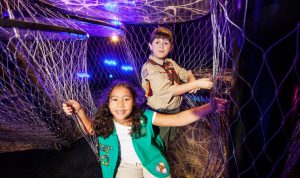 At The Franklin Institute, Scouts can enjoy fun, interactive STEM-based exhibits while also working toward their badges. We've designed activity sheets so that while you are enjoying the museum, you can also check off portions of some adventure activities and badge requirements. We have also designed take-home activities so that scouts can continue their adventure at home after their visit!
Groups of 15 or more save the most! When you book a group outing, you will save more than 30% off the box office price. Call us today to make your group reservation and enjoy 11 permanent exhibits, educational IMAX documentaries, out-of-this-world Planetarium Shows or curiosity piquing Live-Science Shows.
Scout groups larger than 15 people will also receive a commemorative Franklin Institute Scout patch! One patch per scout will be mailed to the group leader after your visit.
More information about the Franklin Institute can be found here