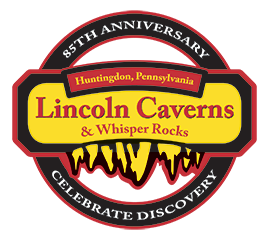 Announcing 2018-2019 Great Events for Great Scouts!
DISCOVER * EXPLORE * EXPERIENCE * ENJOY

At Pennsylvania's Scout Friendly Cave!
Lincoln Caverns has been serving the Scouting Community for nearly thirty years. By providing activities that are both engaging and educational, Lincoln Caverns offers Scouts of all ages an opportunity to learn and make memories that will last them a lifetime. Programs are available year-round in our Indoor Learning Center. Event dates are ideal for smaller troops. Larger groups are encouraged to call to plan a custom program to fit their needs!
SPOOKTACULAR Halloween Events Just for Webelos & Scouts BSA
Your adventure begins with tours of a haunted Lincoln Caverns, followed by an interpretive tour of a natural Whisper Rocks, Halloween party with games, crafts, costume contest and pizza supper, followed by the haunted trail and haunted hayride. Spend the day Sunday earning Webelos Earth Rocks Adventure or Scout BSA Mammal Study (all about bats!) Merit Badge.

Webelos Event with Earth Rocks

October 6 – 7, 2018

Scout BSA Event with Mammal Study

October 13 – 14, 2018
One-Day Events for Wolf Cub Scouts & Webelos with Optional Friday Night NOVA Programs!
Webelos Earth Rocks on Saturday – paired with Down & Dirty or Science Everywhere NOVA on Friday night!

Wolf Cub Scout Digging In The Past Adventure can be paired with Finding Your Way Adventure, Down & Dirty, Science Everywhere or NOVA Wild!

Check out the Webelos Event Date Choices here!

All the Wolf Cub Scout Dates are listed here!
Great Weekend Events for Scouts BSA! Friday – Sunday Earns Two Merit Badges or Choose One Only!
Enjoy primitive camping in Warrior Ridge Campground for June and September Camporee Events. Ghosts & Goblins weekend and Winter Camporee feature indoor slumber party style lodging. All Merit Badge programs are complete and conducted by registered Counselors. Featuring hands-on activities and lots of fun for all participants – both Scouts and adults! Lunches included too! Scouts BSA participate in special Black Light Adventure Tours in the evening!

Check out the great Merit Badge Camporee weekends here!
Lincoln

Join our Scout Leaders' Area today to download detailed program information for pre-scheduled event dates (no minimum number of participants) OR to plan your own pack, troop or Council event for larger groups of Scouts & adults!

Contact us anytime!

We are here to help you plan an awesome visit for you and your Scouts!

Lincoln Caverns, Inc.

O: 814.643.0268 C: 814.386.3023
‌
‌
‌