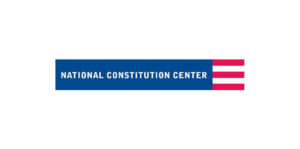 At the National Constitution Center, scouts will enjoy action-packed day learning about American history and the importance of good citizenship—all while meeting badge, patch, or journey requirements!  Our Scout Days feature guided tours, interactive quiz games, outdoor flag ceremonies, hands-on artifact workshops, activity tables, and more!  PLUS: All Scouts receive a great National Constitution Center Scout Day Fun Patch!
SCOUT DAY PRICING AND BOOKING INFORMATION
Scouts: $14
Adults: $12
One free chaperon for every 10 Scouts!
Scout Day group rates include special programs, admission to the National Constitution Center, and a commemorative patch. Lunch is not included.
Group leaders will receive a personalized Scout Day agenda prior to their visit.
Book Now! Call: 215-409-6800
Reservations are required. To book your troop for a Scout Day, contact our Group Sales team!
SCOUT DAY STRUCTURE
8 a.m.: Check-in Opens
8:30 a.m. to 3 p.m.: Programs and Activities
1 p.m. to 5 p.m.: Merit Badge Counseling (Boy Scout Days Only)*
At the National Constitution Center's Scout Days, scouts and their leaders will participate in a wide variety of activities throughout the museum. Activities include both independent museum exploration as well as programs led by our staff, including games, tours, and workshops. Most activities last about a half hour.
Every group will receive a customized agenda, which will serve as their "cheat sheet" for the day.  Each scout will also receive a Scout Day Activity Packet, designed to guide them through their experience and help them accomplish their badge requirements.
The customized agendas will list the times and locations of each activity, the page in the Scout Day Activity Packet that each activity corresponds with, and the badge requirements the scouts will be accomplishing.
Group leaders are responsible for guiding the scouts from one activity to another
For more information please go to https://constitutioncenter.org/visit/group-visits/scout-days