Manheim Township Astronomy Club Presents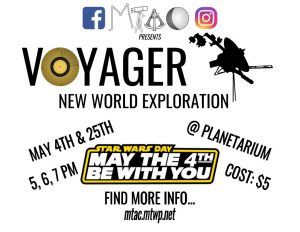 Join the Manheim Township Astronomy Club on May 4 and 25th for Voyager New World Exploration. To purchase tickets go here. There is a special pre-sale for Scouts that will end on April 1, 2018. Scouts and families will need to enter password, "starwars," to purchase pre-sale tickets.
No guest is required to wear Star Wars attire to the event. We encourage Scout uniforms to be worn if they choose to represent their unit.