Earn Money For Camp – Sell Camp Cards!
The Camp Card Sale is designed to help Scouts earn their way to summer camp, day camp, a BSA high adventure base, or raise money for the unit's outdoor program. The Camp Card is a discount card that entitles the user to several discounts at local businesses. Units participating in this program earn 50% commission ($2.50) for each $5.00 Camp Card that is sold. The remainder of the funds will benefit the programs of the Pennsylvania Dutch Council, BSA, and pay for the production costs of the cards. The Camp Card sale takes place in March, April and May allowing units over 12 full weeks to earn money for their program.
In 2019 our units raised nearly $27,000 to send Scouts to camp, buy equipment, and provide outdoor program.
Registration now available:
Register online for the sale and pre-order your unit's camp cards; this helps us determine the number of cards to order.
Discount Offers  for 2020
Several money-saving discounts will appear on the card. Below are the businesses that have committed to partner with us for 2020:
Bruno's Old Fashion Hoagies – Buy one Cold Hoagie get One for $1
Skyzone
Papa Johns'
Dutch Wonderland – $5.00 off one day full priced admission
Dairy Queen Lebanon BOGO Free one (1) any size Blizzard, offer good once per day – Lebanon County Card only
Lazer Factory – Buy one session get one free – Lebanon Card Only
Jack William's Tire & Auto – $10.00 off a standard oil change
Online promo codes for hundreds of other businesses, good nationally
New for 2020 Youth Recognition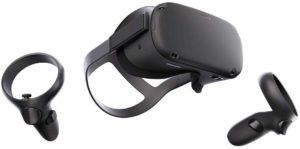 For 2020 we will be having a drawing for Scouts to get an Oculus Quest. The Oculus Quest is an all-in-one gaming system built for virtual reality. You can play almost anywhere with just a VR headset and controller. For every five camp cards sold during the sale the Scout will be entered into a drawing for the Oculus Quest. It will be the responsibility of the Unit Champion to see that the paperwork is forwarded to the council by June 1. Winner will be announced June 5th. Unit champions need to record the Scout and the number of cards sold on the Incentive Report Form. Learn more about the Oculus Quest here
Council Top Salesman Prize-One Prize
The top council salesman will receive a $150.00 Amazon Gift Card*
*Scout must sell at least 250 camp cards and is not eligible for the Top District Salesman Prize
District Top Salesman Prize– One per Disitrict
The Top District salesman in each district will receive a $100.00 Amazon Gift Card*
*Scout must sell at least 175 camp cards
2020 CAMP CARD FORMS:
Camp Card Tracking Spreadsheet
New Parent Camp Card Information
Bonus Saving Information Lancaster Card
Bonus Saving Information Lebanon Card
Sell Scouting, Not Just Discount Cards
Families should understand that they are not just selling discount cards, but selling Scouting – a summer camp or Scouting experience that will reinforce Scouting's aims of character development, citizenship training and personal fitness in youth. Be sure to emphasize that each card sold helps a Scout go to camp. The greatest likelihood for a successful camp card sale is having everyone know they are supporting Scouting. Scouts can sell the card to friends, family members, and people in their communities who may want to take advantage of the discounts and help Scouts earn their way to camp!
Cards Pay For Themselves
A customer can purchase a Camp Card for only $5, but they'll receive far more in value! If a customer regularly visits any of the stores listed on the cards and uses all of the discounts, they will be receiving all of their money back – plus they will be helping Scouts go to summer camp!
Camp Card News
Watch here for Current issues beginning in March
More Information:
Contact Your District Champion: