by Daniel Hanson on Monday, October 22, 2018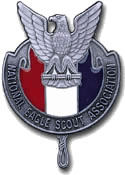 The Pennsylvania Dutch Chapter, National Eagle Scout Association (PADNESA) is soliciting nominations for the Glenn and Melinda Adams Service Project of the Year Award.  A link to the award requirements and additional information is Adams Award Requirements.  For a copy of the nomination form, please click on Adams Award Nomination Form.  Nominations are due by November 30, 2018 and can be submitted to PaDutchNESA@outlook.com.
Please feel free to reach out to PADNESA at PADutchNESA@outlook.com with any questions.
PADNESA is preparing a survey of Eagles Scouts to help us develop a direction for the newly formed chapter.  We have a limited list of email addresses for Eagles and would like to ensure we reach as many folks as possible with the survey.  If you want to participate and the survey (and we hope you do), please let us know you want to participate by email us at PADutchNESA@outlook.com.
YIS,
Bob Anspach, Chair