by Daniel Hanson on Thursday, November 29, 2018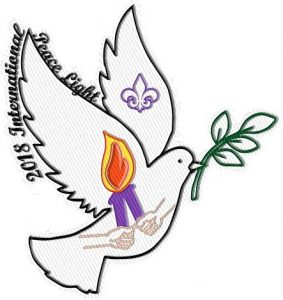 LANCASTER – November 29, 2018  – The light of the season is here in time for Christmas in Lancaster — the Peace Light is coming to the Pennsylvania Dutch Council of Boy Scouts of America on December 5, 2018.
For over a thousand years, a flame has been continuously lit in the Grotto of the Nativity in Bethlehem Israel.   Each year, as has been the tradition for the last 33 years, a Scout from Upper Austria has been chosen to light two blast proof miner's lamps from the grotto flame.  The lamps are then carried on an Austrian Airlines jet from Tel Aviv Israel to Vienna Austria from where the Peace Light is distributed at a Service of Dedication to delegations from across Europe who take it back, with a message of peace, to their own countries.
Since 2004, Austrian Airlines has flown the miner's lamps containing the Peace Light from Vienna to New York City.  Boy Scout leaders from the United States light their lanterns from the miner's lamps in New York, and spread out across the United States and Canada to share the Peace Light. This is the first year that the Pennsylvania Dutch Council has been honored to host the Peace Light.
The Peace Light will be received with an arrival ceremony on December 5 at 2:00 pm at Pennsylvania Dutch Council of the Boy Scouts of America office, located at 630 Janet Avenue, Suite B-114, in Lancaster, PA.
The Peace Light will be available during the weekday from December 6 through 21, from 9:00 am – 4:30 pm, at the council office.  We ask that if you wish to take the light with you, that you bring an oil lamp or an enclosed candle to take it with you.
The Peace Light is a physical reminder of the reason for the Christmas season.  We invite the public to take the light to their homes, houses of worship, hospitals, homeless shelters, retirement homes, and places of public and cultural importance – to anyone who appreciates the significance of the "gift".
The Pennsylvania Dutch Council serves nearly 5500 youth in a variety of programs in Lancaster and Lebanon County.  For more information on Scouting and the Peace Light, call (717) 394-4063 or see www.peacelight.org or www.padutchbsa.org.