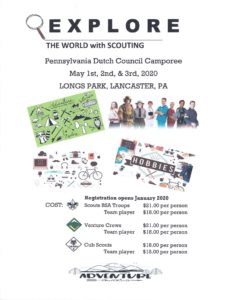 2020 Explore the World with Scouting Council Camporee
When: May 1-3, 2020
Where: Long's Park, Lancaster
Cost:
Scouts BSA Troops
Regular Fee: $21 per person
Team Player Fee: $18 per person
Cub Scouts
Regular Fee $18 per person
Team Player Fee $15 per person
Registration Deadline: May 1, 2020
Late Registration Deadline: May 15, 2020
Leader's Guide
Register Here Registration will open in January 2020
2020 Camporee Trading Post
We will be offering a t-shirt and extra participant patches for the 2020 Camporee. All items are available to order until May 1, 2020 and will be available to pick up at the 2020 Camporee. Orders will be made online with your event registration.