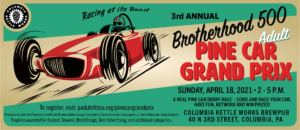 3rd Annual Brotherhood 500
ADULT PINE CAR GRAND PRIX
Sunday, April 18, 2021, 2 – 5 p.m.
Columbia Kettle Works in Columbia, PA
Relive your childhood while supporting the Boys Scouts of America.
The Brotherhood 500 captures the excitement of traditional Pine Car racing. Participation is open to both individuals and businesses.
Experience
•Spirited Competition
•Excitement
•Company Pride
•Fellowship
•Business Exposure & Networking
•Tons of FUN!
About the Pine Car Grand Prix
For more than 65 years, boys have turned a block of pine wood, four plastic tires and metal axles, into race cars – some fast, some not so fast.
For many adult men, their favorite memory was the pine car derby racing. The Brotherhood 500 Pine Car Grand Prix gives adult participants the opportunity to relive the fun and excitement of building their own cars and racing them on real pine car race tracks. They get a chance to build the car they wish they had years ago as a youth – maybe even settle some scores.
But most of all, this will be a fun event in a friendly atmosphere with friends and coworkers while enjoying craft beers and great food.
Proceeds from this event will support improvements to OA Ceremonial Circles at Camp Mack and Camp Bashore.
Trophies Awarded
Impressive trophies will be awarded for the Fastest, Slowest, Best Design, Best Corporate signage, and additional categories.
There are two basic racing divisions
Stock Car – Stock Cars will follow the traditional rules and requirements for the Pinewood Car racing.
Outlaw – The Outlaw division cars must meet three basic rules: must fit on the track, must be gravity propelled, cannot cause any harm.
Registration Options
Registration Options:
Participants have two options for registration.
Individual Racer will receive a pine car kit to race, drink tickets, and a commemorative pint glass. Cost $50
Designated drivers will receive a pine car to race, soda tickets, and a commemorative pint glass. Cost $40
Add-Ons
Expand Your Team – $20.00 (race multiple cars that you build)
Rent-A-Racer – $20.00 (can't build a car? Rent one of ours!)
Rent-A-Racer
Don't have time to build a car for the Grand Prix? No problem, we have you covered! The Rent-A-Racer program will allow any registered participant to rent a Pine Car racer for the event. Just like the real car rental counter, simply select the Rent-A-Racer option at registration to borrow one of our cars for the event. You can even Rent-A-Racer if you want to run a second or third car at the Grand Prix! Rental cars will be available for the day of the event. Rental cars are to be returned at the end of the event. Cost is $20 for the car rental.
Event Pint Glasses
Event pint glasses will also be available for purchase at $10 per glass. (Each paid registration includes a pint glass for each individual person or team member).
Sponsorship Opportunities are Available
Event Sponsor – $250.00
Includes name and/or logo on event banners and signage, a 1/2-page ad* in the Derby program, and sponsor listing in social media promotions.
Team Sponsor – $100.00
Includes a 1/4-page ad* and team listing in the Derby program.
Individual Sponsor – $50.00
Includes sponsorship listing in the Derby program.
If you are interested in a company or individual sponsorship for the Pine Car Grand Prix at any of the levels listed above, visit the registration page at padutchbsa.org/pinecargrandprix or you can contact Eric Shea at: ericbshea@gmail.com or by phone: 717-278-9646.
* The 1/2-page ad measures 5"w X 3.8"h. The 1/4-page ad measures 2.4"w X 3.8"h. Provide camera-ready art work as PDF or JPEG. If you cannot supply camera-ready art, we will be happy to create your ad, simply provide us with the information you would like in your ad.
Register Online Here
Cub Scout Families and Adults Letter