by Daniel Hanson on Tuesday, September 7, 2021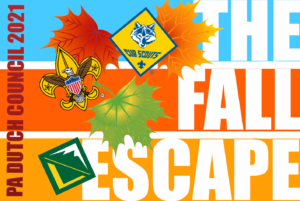 The 2021 Fall Escape will be held at J. Edward Mack Scout Reservation. The event is designed for Cub Scouts and their parents. Troops and Crews will be helping to run the stations for the Cub Scouts. When troop or crew members aren't assisting at a station, there will be conservation projects they can participant in. We ask that you let us know how many Youth and Adults will be working on conservation projects when you register so that we have enough leader supervision.
The main purpose of the Fall Escape is to expose young scouts to activities in which they will participate throughout their years in scouting. Cub Scouts will participate in stations revolving around the theme of Escape the Indoors. This is also an opportunity for Cub Scouts to meet some of their outdoor requirements while having fun. This is also an opportunity for the Cubs to engage with the older Scouts and for the older Scouts to practice leadership.
The Northern District will host their event on October 9 and the Southern District will host their event on October 16. Both weekends will have camping options shown below.
No matter how long you are staying, the price of attendance per person is:
• Cubs: $18 Non-Team Player or $15 Team Player
• Troops/Crews: $10 Non-Team Player or $8 Team Player
Northern District Event Register Online Here
Southern District Event Register Online Here
You MUST register by 1 week before the event you are attending to ensure we can get the proper supplies.
Uniforms are encouraged but not required. An event patch, all activities (for the youth), and a bagged meal are included in the cost. The trading post may be open during the event.
Troops and Crews are welcome to arrive on Friday night, beginning at 4:30 PM. You must provide all camping equipment, as tents and cots have been removed from the campsites for the season. You may use any available space in your assigned campsite, however, please try to stay close to one another, as other units may be sharing your site with you. It is strongly suggested that you arrive BEFORE DARK. Arriving while it is still light will help with finding your site and setting up camp.
Packs will be checking in Saturday morning and are welcome to camp Saturday night. Each Pack will be partnered with a Troop or Troops in their campsite.