by Daniel Hanson on Tuesday, June 2, 2020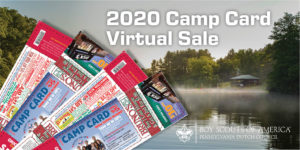 There is no doubt that the 2020 Camp Card Sale has taken one unexpected turn after another.  The safety of our Scouts, Scouting families, volunteers, and our community partners is paramount in Scouting and for now, the best thing our Scouts can do is follow the governor's order to Stay At Home.  For Scouts that rely on the annual Camp Card sale to help pay their way to summer resident camps or other Scouting Activities, the loss of the sale could mean not being able to participate in those events.
In addition to the support that the Camp Card sale generates for Scouts, the sale also provides critical support for the Pennsylvania Dutch Council to fulfill its mission in supporting local Scouting organizations.  Recognizing the overall impact the loss of the Camp Card sale would have both on our Scouts and the council, the Pennsylvania Dutch Council is offering a new alternative–a Virtual Camp Card Sale.

What is a Virtual Camp Card Sale?
We are sure this isn't the only question that you have.  The Virtual Camp Card Sale is a safe, risk-free way for Scouts and units to participate in this year's sale.  It's simple.  It doesn't require anyone from the unit to go anywhere, pick anything up, or to do anything that they can't do from the safety of their own home.
How it works is that Scouts will invite family, friends, neighbors, and others who are interested in helping to support their Scouting adventures to purchase a Camp Card or Camp Cards online.  We have put together an online store that offers both versions of our Camp Card.  When Scouts invite someone to purchase a card, they need to make sure they provide their customer with their unit number as well as the Scout's name.  The order is placed online through the Pennsylvania Dutch Council store, the council ships the card or cards directly to the customer and the Scout/unit get the $2.50 commission per card, just as if they sold it directly to the person themselves.  The process is simple, safe, and you don't need any physical cards to actually participate.
The Council will also distribute a matching number of Camp Cards to local first responders and medical providers.  A Scout is "Helpful" and "Cheerful" and we hope that this small gesture brings some cheer while expressing thanks to our community heroes.
How do I participate?
If your unit signed up for the sale, you are automatically entered into participating in the Virtual Sale.  Scouts can direct customers to the online store.  While there, customers will need to select the Scout's unit and will be able to enter the Scout's name so that we can appropriately credit the sales.
If your unit did not sign up, or if you are unsure whether your unit signed up before then, your unit can still participate. Please have your Unit Camp Card Champion contact our Camp Card Staff Advisor, Scott Arnold at scott.arnold@scouting.org to join the sale.
Tools to participate
Is the commission structure the same?
The Scout/unit will still receive $2.50 per Camp Card sold.  Online Camp Cards will be $6 instead of $5.  The additional dollar will cover the cost of postage ($.55) and some of the transaction fee for the credit card purchase.
How will cards be distributed?
Cards will be mailed directly to the customer from the Pennsylvania Dutch Council. We will mail cards every Wednesday and Friday till August 30th.
My unit picked up cards, what do we do with them?
Hold on to them for now.  Scouts are welcome to sell and mail Camp Cards on their own.  We hope that the Service Center will be reopened in June and we will communicate in advance of that how we will handle returns.
If my unit is already doing something like this, do we have to participate with the Council's online store?
No.  If your unit has already set up something like this and you have an inventory of cards, you are welcome to continue to use the system that you have established.  Participating in the council program saves the unit the transaction fees, some headache in getting things sent out, and is the only way to participate in the match program for donating cards to first responders and medical providers.
Will sales through the council site count towards individual and unit prizes?
Absolutely.  It is important that Scouts share with customers to enter both the unit number and Scout's name as part of completing the transaction.  We will share with each unit that has online sales the results of their sale so that they can correctly attribute sales to each participating Scout.