Earn Money For Camp – Sell First Aid Kits
And Help Everyone to… Be Prepared!
The Spring Product Sale is designed to help Scouts earn their way to summer camp, day camp, a BSA high adventure base, or raise money for the unit's outdoor program.  For one more year, we have decided to sell First Aid Kits from Right Response as a "take order" only sale.  Units participating in this program earn 30% commission from each First Aid Kit that is sold. The remainder of the funds will benefit the programs of the Pennsylvania Dutch Council, BSA.
The First Aid Kits are priced from $15 – $120 so there is a kit for everyone!  These make great Mother's Day, Father's Day, first car, graduation, and gifts for clients.  They are great to have in sports bags, backpacks, cars, purses, etc.
The Spring Product sale will take place from February 28th to March 25th, 2022, allowing units about a month to earn money for their Scouting programs.  In 2021, Scouts who participated were very successful!
Team Player Status Reminder: Units must participate in the Council's Spring Product Sale to retain Team Player status for discounts on District and Council events.  Units do not need to meet a minimum sales requirement; however, units need to sign up for the sale and promote to their respective members and families.  If you have any questions, please contact your District Executive.
Unit Registration for the Spring Sale Is Open!
Register your unit HERE for the Right Response First Aid Kit sale by midnight on February 21st. This will help us determine the amount of materials to prepare for each unit.
2022 First Aid Kit Fundraiser Timeline
February 2022                       First Aid Kit Fundraiser promotion at Roundtables
Now – February 21st              Units sign-up for the sale: CLICK HERE.
Beginning
Friday, February 18th           Pickup/Distribution of sales brochure
Tuesday, February 22nd       Info Session/Training for Unit Champions, 7pm via Zoom
February 28th                         First Aid Kit Spring Sale Begins
March 25th                             Sale Ends
April 1st                                  Deadline for submitting payments. (Units keep
commissions and submit difference to the Council.)
2nd Week of May (approx.)      Pick-up/distribution of orders at the Council Office
2022 Spring Product Sale Forms and Resources:
Sell Scouting, Not Just First Aid Kits!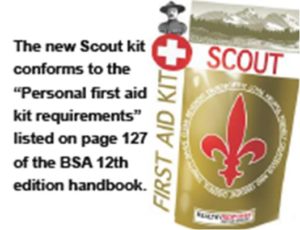 Families should understand that they are not just selling first aid kits, but selling Scouting – a summer camp or Scouting experience that will reinforce Scouting's aims of character development, citizenship training and personal fitness in youth. Be sure to emphasize that each first aid kit sold helps a Scout go to camp. The greatest likelihood for a successful fundraiser is having everyone know they are supporting Scouting. Scouts can sell the first aid kits to friends, family members, and businesses in their communities who may want to take advantage of having an updated first aid kit in their office and help Scouts earn their way to camp!
For More Information, Please Contact Your District Champion: