by Daniel Hanson on Friday, June 24, 2022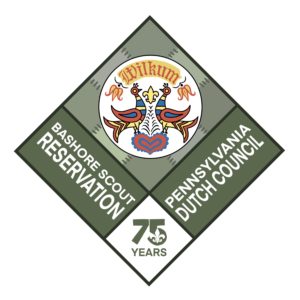 Bashore Scout Reservation 75th
Anniversary Open House Weekend
August 12-14, 2022
EVERYONE IS WELCOME TO COME CELEBRATE WITH US! Over the past 75 years Camp Bashore has been the home of Scouting and outdoor adventure to thousands of Boys, Girls, and Adults from not only Lebanon County, but all over the USA. We want to invite you to come and see what Bashore is all about. Whether you attended here decades ago, or never at all. Come to reminisce or make new memories. Reconnect with old friends or perhaps introduce your family to your "True-Blue Mountain Home" Best of all, its FREE ADMISSION!
Some of the events we have planned include:
 FREE CAMPING for Scouting Units & Organized Youth Groups
 OPEN TO THE PUBLIC—Tent Camping $10 per family or Individual. Campers and RV's $25 –basic site (no hookups). No admission fee for non-camping visitors.
 FAMILY FRIENDLY VENUE—fun for ALL ages! (Sorry–no pets allowed)
 ENTERTAINMENT– Outdoor Movie Friday Evening— Saturday Evening there will be a special Campfire Program & Time Capsule Ceremony
 OPEN PROGRAM ALL DAY- Rifle & Archery, Swimming, Boating, Handicraft, Nature, Campcraft, STEM and much more– No Charge!
 TRADING POST OPEN ALL WEEKEND– Snacks, Beverages, Ice Cream, Souvenirs, and more!
 CHICKEN BBQ or PORK BBQ MEALS AVAILABLE from Keller's BBQ & Catering (Pre-Sale Tickets available)
 SCOUTING MEMORABILIA AUCTION & PATCH TRADING There will be a silent auction of Camp Bashore and Scouting Memorabilia on Saturday Morning.
 CAMP TOURS—Hike to "Old Black Joe's" Homestead or See how the camp has changed (or not) over the years.