National Youth Leadership Training (NYLT)
National Youth Leadership Training (NYLT) is the Boy Scouts of America's premier youth leadership development program.  NYLT is designed to train all the youth leaders of a Troop, Crew, or Ship with leadership skills they will be able to apply in Scouting and throughout the rest of their life.
NYLT Course Information And Registration
Location: Camp Mack Training Center
NYLT Course-rescheduled to July 30 to August 4, 2023
Register Here Registration closes on July 10, 2023!
Price:
Regular Fee $440 per Scout
Encore Camper $390 per Scout. Encore camper applies to any Scout that is attending a second week at Bashore Scout Reservation or has participated in Pennsylvania Dutch Council's NYLT course or a Pennsylvania Dutch Council High Adventure trip on the same year.
Information contact:
Course Director – Clay Golden, clayg_2529@yahoo.com
NYLT Teaches Skills Such As:
Conflict Resolution
Communication
Situational Leadership and the Leading and Teaching EDGE
Project Planning
Much, much more…
NYLT Participation Requirements
Scouts BSA
Be at least 13 years old
Have earned at least the 1st Class Rank
Completed Introduction to Leadership Skills for Troops training with your Troop
Venture/Sea Scouts
Be at least 14 years old
Completed Introduction to leadership Skills for Crews/Ships with your Crew/Ship
Recommended 1 year of Camping Experience
All Participants
Be capable of functioning safely in an outdoor environment. All participants are required to complete the Annual 

Health and Medical Record Form

Parts A, B, & C
National Advanced Youth Leadership Experience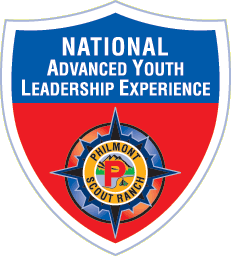 Attention leaders of NYLT, graduates, and future grads!
For more informaiton on NAYLE Training Follow this link: NAYLE
BSA'S Youth Leadership Training Continuum
NYLT and NAYLE are only part of the continual training youth leaders receive through participation in the Boy Scouts of America.  The most important leadership training they receive takes place through continual coaching and mentoring by the unit leader.