Questions related to Wunita Gokhos #39 can be directed to Lodge Adviser Eric Shea (ericbshea@gmail.com) or Lodge Staff Adviser Daniel Hanson (daniel.hanson@scouting.org)
Dues and Event Registration Information
Lodge Fall Ordeal September 22-24, 2023, Camp Mack.
Lodge 50th Anniversary Celebration Guest Registration
Fall Service Day November 4, 2023, Camp Mack, Registration closes November 3
Lodge Family Banquet April 7, 2024, Melhorn Manor
Lodge Fellowship April 26-28, 2024 Camp Mack
Lodge Spring Ordeal May 17-19, 2024, Camp Mack
Section NE-6B Conclave May 31-June 2, 2024, Camp Mack
NOAC 2024 July 29-August 3, 2024, University of Colorado, Boulder, CO
Lodge Fall Ordeal September 27-29, 2024, Bashore Scout Reservation
Wunita Gokhos 50th Anniversary Pre-Order Items
Celebrate the Lodge's 50th Anniversary with anniversary merchandise.
Pre-Order 50th Anniversary Merchandise and pick it up at the Lodge's 50th Anniversary Celebration on Saturday, September 23, 2023 at Camp Mack .
Pre-Order deadline is Friday, September 1.
2024 National Order of the Arrow Conference (NOAC)
The National Order of the Arrow Conference (NOAC) is the premier event of the Order of the Arrow and is Scouting's second largest national event.  Over 8,000 Arrowmen from across the country will gather for an inspirational and unforgettable experience full of fellowship, training, adventure and fun!  During NOAC, Arrowmen will participate in a six-day conference which includes top notch training sessions, cool recreational opportunities, individual and team competitions, evening shows, and exciting programs.
The 2024 NOAC will be held from July 29 to August 3, 2024 at University of Colorado in Boulder, CO.   Arrowmen can travel to NOAC with a contingent from their lodge, or as a staff member supporting the thousands of Arrowmen attending in the conference.  Details are still being worked out for the travel aspects of this cross-country conference.  However, the tentative plan is for the Lodge Contingent to leave from Camp Mack on Sunday July 28th and return on Saturday August 3rd.  The cost of the contingent trip will be $750, plus airfare, and will include shirts, patches, event registration, and a few other cool things!
Wunita Gokhos Lodge will likely be limited to the number of spots we are able to fill at the Conference and NOAC 2024 will likely sell out.  If you are interested in attending with the contingent, you should register via the Lodge registration page at padutchbsa.org/programs/order-of-the-arrow before October 1st.  You must submit a refundable deposit of $150 with your registration.  Once the Lodge receives its final participant quota, the NOAC Selection Committee will convene to select those members that will represent the Lodge at NOAC 2024.  Lodge members, both youth and adult, will be selected based on their commitment to the Lodge, Scouting background, and the required youth to adult ratio.  Any Arrowmen not selected will have their $150 deposit refunded.  We will do our best to accommodate all requests to attend the conference, however, we will likely be limited in the number we can take with the Contingent.  We will also maintain a waiting list if we do not obtain enough initial roster spots.
If you are interested in attending NOAC 2024, but are concerned about the cost of the event, please reach out to Eric Shea, Lodge Adviser, before October 1st to discuss your situation directly.
Owl's Nest
Where to Go Camping Guide
The Wunita Gokhos Lodge has put together a Where to Go Camping Guide. This is a resource for units that are looking for places to camp. The guide can be found clicking the link below
Useful OA Links
What is the Order of the Arrow?
In 1988, the Order of the Arrow was recognized as Scouting's National Honor Society when it expanded its reach beyond camping to include a greater focus on leadership development, membership retention, adventurous programming, and broader service to Scouting and the community. Today, its service, activities, adventures, and training for youth and adults, are models of quality leadership development and programming that enrich, support, and help extend Scouting to America's youth.
Mission of the Order of the Arrow

The mission of the Order of the Arrow is to fulfill its purpose as an integral part of the Boy Scouts of America through positive youth leadership under the guidance of selected capable adults.
Purpose of the Order of the Arrow

As Scouting's National Honor Society, our purpose is to:
Recognize those who best exemplify the Scout Oath and Law in their daily lives and through that recognition cause others to conduct themselves in a way that warrants similar recognition.
Promote camping, responsible outdoor adventure, and environmental stewardship as essential components of every Scout's experience, in the unit, year-round, and in summer camp.
Develop leaders with the willingness, character, spirit and ability to advance the activities of their units, our Brotherhood, Scouting, and ultimately our nation.
Crystallize the Scout habit of helpfulness into a life purpose of leadership in cheerful service to others.
Joining the Order of the Arrow
Youth Members are elected by their fellow Scouts. A youth must meet the following requirements:
Be registered in a Scouts BSA Troop, Venture Crew, or Sea Scout Ship.
Hold at least the First Class Rank.
Have 15 days and nights of camping during the two-year period prior to election. The 15 days and nights must include one, but not more than one, long-term camp consisting of six consecutive days and five nights of resident camping, approved and under the auspices and standards of the BSA. The balance of the camping must be overnight, weekend, or other short-term camps.
Be approved by their Scoutmaster, Crew Adviser, or Skipper.
Adults may be nominated to the Order of the Arrow if they meet the following requirements:
The unit committee may only nominate adults if the unit has held a youth election resulting in at least one youth member being elected.
The number of adults nominated can be no more than one-third the number of elected youth members rounded up.  In addition, the currently serving unit leader (but not assistants) can be nominated as long as they have served as unit leader for the previous twelve months.
Adult nominees must meet the same camping requirement listed above for youth members.
Adults should not be nominated as a recognition of service or prior achievement
Adults should be nominated based on their ability to serve as a positive role model for youth members of the OA and their ability to perform the necessary functions to help the order fulfill its purpose.
Adults must be approved by the Lodge Adult Selection Committee.
Following election/nomination and approval candidates must complete an Ordeal experience.  After successful completion of the Ordeal they become members of the Order of the Arrow.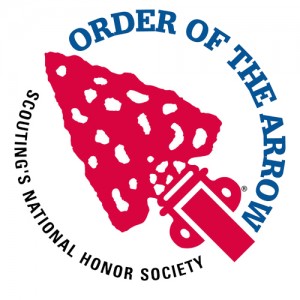 Elections may be held only one timer per year and must be conducted by a trained lodge election team .  Representatives of Wunita Gokhos Lodge #39 will contact each Troop/Team annually to set up elections usually in the spring.