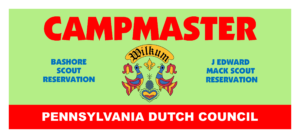 Click on the links below to see pictures and description of each of the Campmaster Cabins. Both cabins have been remodeled, and in pretty good shape. Plenty of room in each to bring your spouse.
Camp Bashore Campmaster Pictures                             Camp Mack Campmaster Pictures
Spend Weekends at Camp Mack, Bashore, or Both.
Provide Cheerful Service to Scout Units and Other Groups at Camp.
Help with Camp Projects.
Help with Check-In and Check-Out
Enjoy Fellowship and Fun!
Training Provided
Flexible Scheduling
Please click the following link to view and sign up for available weekends. Please note that sign ups will only be accepted using the email address on file. Please contact the Campmaster Coordinator to add or modify your email address.
To sign up for a weekend you must have your email address already on file. Submit your email so you are ready to go when sign ups open for the new year, or just to be ready.
For More Information Contact:
Darron Young at 717-808-1840, dy@dwy.us
Matt Stewart at 717-587-8409, wallaby38@gmail.com