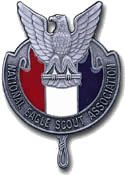 Please explore the many benefits of NESA membership by visiting the BSA's National site by clicking on the button below.

The purpose of the National Eagle Scout Association (NESA) is to identify Eagle Scouts and provide a manpower resource for local councils. NESA is young men searching for dynamic and challenging leadership roles. NESA is older Eagle Scouts who desire using their efforts and influence toward forming the kind of young men America needs for leadership. The objective of NESA is to serve—to serve Eagle Scouts and through them, the entire movement of Scouting.
The Pennsylvania Dutch Council has a local NESA Chapter of Eagle Scouts. The goal of the Pennsylvania Dutch Council NESA Chapter is simple, to bring the power of Eagle Scout leadership to support Scouting in our Council. As you know, Eagle Scouts represent Scouting's finest, and we want to draw from this group of talented men. It is Scouting's current leadership, largely at the council level, that will determine the future of our movement.
The Pennsylvania Dutch Council NESA Chapter has five goals:
Facilitate networking opportunities for Eagle Scouts: "Gathering of Eagles" events including dinners, breakfasts, social activities and camp gatherings to mention a few.
Review annual applications for the Adams National Eagle Scout Service Project of the Year Award and identify and nominate adults for the Outstanding Eagle Scout Award and the Distinguished Eagle Scout Award.
Encourage Eagle Scouts to apply for NESA scholarships and awards, promote the benefits of being an Eagle Scout, and encourage all Eagle Scouts to become members of NESA.
Support annual council recognition events for new Eagle Scouts by coordination with the council activities committee and becoming involved with the annual Eagle Scout recognition dinner for young men who have received the Eagle Award the previous year.
Assure that all adult Eagles have an opportunity to be involved in Scouting, either as a volunteer, or by creating opportunities for adults to support scouting in other ways. We want to be sure to leverage the benefits and experience Eagle Scouts have received from their Scouting experiences.
As an Eagle Scout, you have the values and experience so valuable to helping us sustain the Scouting program. You are special. Please consider sharing your time and expertise and support Scouting by filling out the
Pennsylvania Dutch Council NESA Chapter Registration
Membership in the Pennsylvania Dutch Council NESA Chapter is renewed annually. Please use the link above each year to renew your membership for the year.
National Eagle Scout Association Scholarship Applications
National Eagle Scout Association Membership Information
National Outstanding Eagle Scout Award Nomination Information
Glenn and Melinda Adams Eagle Scout Service Project Award Nomination Information Due by January 31