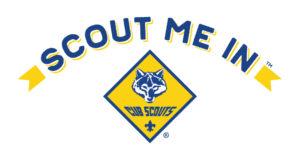 History. Tradition. Adventure. Get more involved with your kids
in a way that puts the fun first. Find a pack near you.
1.  THIS IS THE CUB SCOUTS
It's like play with a purpose, but better.  Kids here do their best and have fun doing it!
2.  CUB SCOUTS WAS FOUNDED ON THE TRADITION OF HAVING A BLAST.
The things Cub Scouts do are the things kids love.
3.  DO YOUR BEST.
That's the Cub Scout motto. Kids are pretty amazed at what they can achieve when they try, but we knew they could do it all along.
4. A SCOUT IS CLEAN, BUT ISN'T AFRAID TO GET DIRTY.
Cub Scouts are active. They get elbows deep in projects and games. That's as it should be.
5.  CUB SCOUTS LEARN CHARACTER
There's a lot of play, but we do other things, too.
Important things.
6. MOSTLY, THIS IS ABOUT HAVING FUN.
Cub Scouts get a chance to try things and see places that they normally wouldn't. Always a good thing.
7. CUB SCOUTS ARE PREPARED IN A WAY
THAT OTHER KIDS JUST AREN'T.
The whole program is full of skills that help kids learn to be prepared.
8. CUB SCOUTS IS FUN, BUT IT'S NOT ALWAYS EASY.
The program is meant to challenge kids to do their best. They'll learn a lot about themselves along the way.
9. THE CUB SCOUT HELPS THE PACK GO, AND THE PACK HELPS THE CUB SCOUT GROW.
There's strength in numbers, and Cub Scout Packs that get outside together always have a good time.
10.  KIDS WANT TO DO THEIR BEST.
The Cub Scouts gives them every opportunity to learn and grow.
It's educational. It's healthy. It's fun. You should try it.
For more information about Cub Scouting click here!
Cub Scouting assists in teaching values and developing character in Scouts by offering a program where Scouts can experience value-based activities with caring leadership and family support.
In developing character, Cub Scouting promotes twelve core values: citizenship, compassion, cooperation, courage, faith, health and fitness, honesty, perseverance, positive attitude, resourcefulness, respect, and responsibility.
As Scouts participate in a Cub Scout activity, they learn to "connect" their experience with a core value. Scouts connect by learning (knowledge), feeling (commitment), and accomplishing (practice) the skills that relate to these values.
In an effort to make character development part of every Scouts experience in the Cub Scouting program, the "Character Connections" are integrated throughout the Scouts handbooks and advancement programs.
Bobcat Badge – All boys earn the Bobcat Badge
Lion– The Lion program is for boys and girls in kindergarten
Tiger– The Tiger program is for boys and girls in 1st grade
Wolf – The  Wolf program is for boys and girls in 2nd grade
Bear – The Bear program is for boys and girls in 3rd grade
Webelos – For boys and girls in 4th grade
Arrow of Light – For boys and girls in 5th grade
To find a unit click below