The Commissioner Service Handbook
There are several great handbooks available to commissioners to help them and their units be successful.  All of these guides are available in print from our local Scout Shop or can be downloaded at the links below.  For more information on these commissioner resources, please, visit the National Council's Commissioner page.
Commissioner Fieldbook for Unit Service
Consider this handy book the commissioner's best friend, the book every commissioner should own. It's packed with essential information on commissioner style, commissioner lifesaving, commissioner responsibilities, and dozens of other topics on providing unit service. It's the definitive reference on unit charter renewal.
Downloadable here.
 Administration of Commissioner Service
This manual has combined the previous editions of the Administration of Commissioner Service, Basic Commissioner Training, and Continuing Education of Commissioners. Some great additions have been made to the manual to support council-level commissioners and their support to districts, as well as some new sessions of commissioner training to be offered at all levels.
Downloadable here.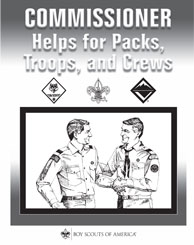 Commissioner Helps for Packs, Troops, and Crews
A practical how-to-reference book chock-full of handy tips on helping units upgrade unit program. It suggests specific commissioner actions to help unit adults meet specific program standards and objectives. This book also includes unit commissioner worksheets for packs, troops, and crews.
Downloadable here.

Unit Performance Guide
A complete guide for sustaining high-performing quality units.
Downloadable here.