by BSAadmin on Saturday, March 3, 2012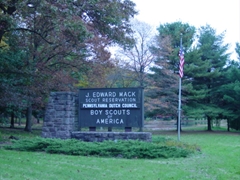 Welcome to J. Edward Mack Scout Reservation
For Information about Summer Camp at Mack Click Here: 

Mack Summer Camp
For Information on Year-Round Camping at Mack Click Here:

Year-Round Camping
J. Edward Mack Scout Reservation is not only a place where scouts of all ages can come and develop skills that will last a lifetime but it is a place where friendships are made!  At J. Edward Mack Scout Reservation, our goal is to create a fun and exciting environment where everyone can learn and enjoy the outdoors.  Camp Mack has an extremely dedicated staff that comes every summer to teach and spread their love for the Scouting program. We are very excited for this up and coming summer, with our new renovations and all, as well as spending the summer at this exceptional scout reservation.
Conveniently located near the center of the Pennsylvania Dutch Council, J. Edward Mack Scout Reservation is home to the Pennsylvania Dutch Council's Summer Cub Scout Programs, a variety of District and Council activities throughout the year, and also the Training Center where most council adult leader trainings take place.

Alley Action Center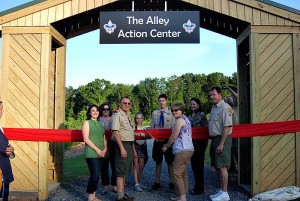 May 19, 2012 marked the opening of the Alley Action Center at Camp Mack.  Made possible through the great generosity of long time Scouting supporters, the Alley Family of Lebanon, the Alley Action Center will include a brand new Camp Fire Circle, New BB and Archery Ranges, and a BMX Pump Bicycle Course.  This area brings new adventures to Camp Mack and brings some old favorites to new facilities that are closer together!
Directions To Camp Mack
Camp Address: 2 Scout Lane Newmanstown, PA 17073
From Lancaster: Take PA Rt. 501 north through Lititz to intersection with US 322 at Brickerville. Continue north on PA Rt. 501 two miles to entrance to camp on left.
From Lebanon: Take PA Rt. 897 South to Schaeffertown, connecting with PA Rt. 501. Follow PA Rt. 501 South about 6 miles to entrance to camp on right.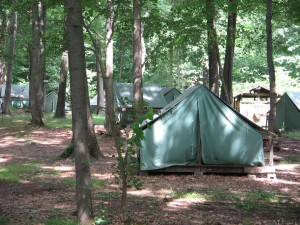 Camp Mack Map
For a Program Area/Campsite Map (North Camp) click here: Camp-Mack-Program-Map-v30
For a Trail Map/Map of the Entire Camp Mack Property click here: Camp-Mack-Camp-Map-v31
For More Information on Camp Mack Please Contact the Pennsylvania Dutch Council BSA:

Contact Us