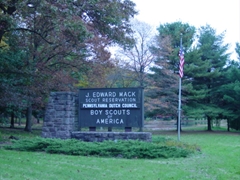 Welcome to J. Edward Mack Scout Reservation
J. Edward Mack Scout Reservation is not only a place where Scouts of all ages can develop skills that will last a lifetime but it is a place where friendships are made!  At J. Edward Mack Scout Reservation, our goal is to create a fun and exciting environment where everyone can learn and enjoy the outdoors.  Camp Mack has an extremely dedicated staff that comes every summer to teach and spread their love for the Scouting program.

Conveniently located near the center of the Pennsylvania Dutch Council, J. Edward Mack Scout Reservation is home to the Pennsylvania Dutch Council's Summer Cub Scout Programs, a variety of District and Council activities throughout the year, and also the Council Training Center where most council adult leader trainings take place.
Address: 2 Scout Lane, Newmanstown, PA 17073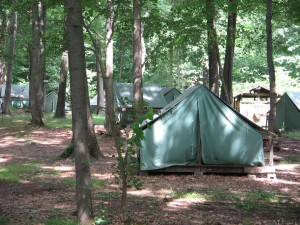 Camp Mack Map
For a Main Camp Map including lodges and campsites click here: CampMack_Map
For a Trail Map/Map of the Entire Camp Mack Property click here: Camp-Mack-Camp-Map-v31
For More Information on Camp Mack Please Contact the Pennsylvania Dutch Council BSA:

Contact Us
Accessibility
Where able, J. Edward mack Scout Reservation works to make sure its facilities and programs are accessible to those with special needs within the limitation imposed by it being an outdoor facility.  All camp latrines have electrical outlets   Seneca campsite is built to be wheelchair accessible.  As facilities are updated, accessibility is always considered and will be improved.
Cub Scout Camping Policy