Summer Hours Start Tuesday May 27 2014
Summer Hours 8:30-4:30 M-F Starting May 27 , 2014
Winter Hours
Monday, Tuesday, Thursday, Friday – 9:00 am to 5:00 pm
Wednesday – 9:00 am to 7:00 pm
Closed On Weekends
Inclement Weather Hours
We will be following the LANCASTER COUNTY CAREER AND TECHNOLOGY Delay/Closing

1 Hour delay Office opens at 9:30 AM and store opens at 10:00 AM
2 Hour Delay Office opens at 10:30AM and Store opens at 11:00 AM
CLOSED- Office and Scout shop Will be Closed
Pennsylvania Dutch Council Scout Shop
Our store is located off of Marshall Ave., Parking Lot #4, Door G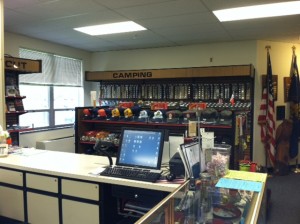 We are located in the community building  at 630 Janet Ave Lancaster , PA
Our store is located off of Marshall Ave., Parking Lot #4, Door G
717-394-4063 ext 228
Fax 717-394-7776
Basic Prices For Cub Scout Uniforms
Prices Are Subject To Change
Pennsylvania Dutch Council Scout Shop carries a wide variety of Scout uniforms, books, manuals, recognition items, and many other Scout items. Any item in the official BSA Catalog, including all items listed on Scoutstuff.org, may be special ordered for you, including Custom Design orders.  If you order through us, you do not have to pay shipping!
The Scout Shop accepts payments for camp and district/council activities, and also processes Advancement orders. The Scout Shop accepts Mastercard, VISA, Discover and American Express.
Do you have limited time for the Scout Shop? Let us help you collect your order for awards!
Email your order in a few days ahead and it will be collected and ready for you.
For Belt Loops and Pins Click Here
For Merit Badges Click Here
Fill in form save and  Email to: robin.kotzmoyer@scouting.org.
Please attach any additional purchases to email and we will do our best to have it ready for you.
Please bring your online advancement forms ( 2 copies) with you when you pick up order.
PLEASE MAKE SURE YOU GIVE US A FEW DAYS TO GET YOUR ORDER READY.
Scout Shop News 2013

Scout Shop News 2014
_________________________________________________________________________
 Hours
Winter Hours – Labor Day to Memorial Day
Monday, Tuesday, Thursday, Friday – 9:00 am to 5:00 pm
Wednesday – 9:00 am to 7:00 pm
Closed On Weekends
Summer Hours – Memorial Day to Labor Day
Monday-Friday – 8:30 am to 4:30 pm
Closed On Weekends
Return Policy
Merchandise, except books, may be returned if and only if:
It has been purchased less than 30 days ago.
It must be in its original purchased condition or package.
It must have original tags attached.
Original receipt must accompany return.
Non Returnable Items:
Dated material is not returnable.
Discontinued items are not returnable.
Books are not returnable.
Final Sale items are not returnable.
The Council reserves the right to determine if an item is resalable or not.
We are a small Scout Shop and cannot accept $100.00 Bills. For Cash refunds over $10.00, a check will be issued within 2 weeks. In addition credit cards and  unit accounts may be credited.
Holidays
January20, 2014                                                  Martin Luther King Day

February 17, 2014                                                 Presidents Day

April 18, 2014                                                         Good Friday

May 26, 2014                                                           Memorial Day ( Summer Hours begin)

July 4, 2014                                                             Independence Day

September 1, 2014                                                 Labor Day (Winter Hours begin)
November 27, 28, 2014                                        Thanksgiving

December 24 noon, 25, 26 2014                          Christmas

December 31 noon, January 1, 2015                   New Years
***Tuesday December 23, 2014 Scout Shop Closed for Inventory until Friday January 2, 2015