What is Wood Badge?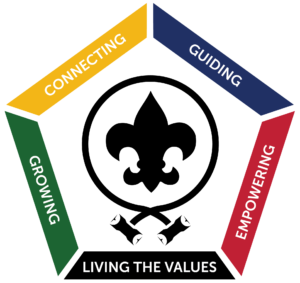 Wood Badge is a premier adult leadership-training course for the Boy Scouts of America. Wood Badge was originally presented by the
founder of Scouting, Lord Baden Powell, in 1919 as a means of strengthening the Scouting movement throughout the world.
The Wood Badge of today teaches contemporary leadership and team development skills in the outdoor setting of Scouting. Aside from teaching new skills, the experience also strengthens Scouting in our units, our districts, and our councils.
The Course consists of two parts: PRACTICAL TRAINING and APPLICATION. During the (2) course weekends the Practical leadership experiences are gained in a camp setting where members participate in hands on activities with other members of their Wood Badge Patrol.
The Application, known as a Wood Badge "ticket", represents each participant's commitment to complete a set of personal goals relating to their Scouting position. They put to use the skills learned during the (2) weekends. Participants will have (18) months after the course to complete their Wood Badge "ticket". Complete details of the ticket will be supplied during the course and a ticket counselor will be assigned to each participant to give guidance along the way.
The Wood Badge Course themes are:
Connecting
Guiding
Growing
Empowering
Living the Values
Who Can Attend Wood Badge?
To attend a Wood Badge course, individuals must:
Be registered members of the Boy Scouts of America.
a. Youth older than 18 may attend as long as the appropriate Youth Protection guidelines are followed. They do NOT need to be registered in an adult leadership role.
Have completed the basic training courses for their Scouting position.
Be capable of functioning safely in an outdoor environment. All participants are required to complete the Annual 

Health and Medical Record Form

Parts A, B, & C
Upcoming Wood Badge Courses
Wood Badge Course 13-524-24
Dates: Weekend 1: September 13-15, 2024  AND
       Weekend 2: October 26-27, 2024
(Participants must attend both weekends)
Cost: $285.00 ($75.00 Non-Refundable Deposit due at the time of registration)
For More Information about this course, download the documents below:
For More Information Contact:
Ben Wohlberg | Course Director
Wood Badge Scholarship Fund
The Pennsylvania Dutch Council has a Wood Badge Scholarship fund. This fund is available to adult leaders to help offset Wood Badge course costs. In addition, any funds not used will be made available to future courses. Any scouter needing access to the funds will complete a Wood Badge Scholarship request that will be approved by the Course Director.
Consider helping other Scouters attend and benefit from Wood Badge training by making a gift to the Wood Badge Scholarship Fund.
Wood Badge Scholarship Pledge Card
Wood Badge Scholarship Application