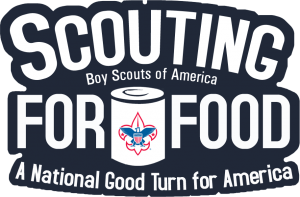 2016 Scouting For Food
 10 Tips to Improve your Scouting For Food Drive
Forms
Submit Your Unit Commitment Online:
Submit Your Unit Collection Report Online:
2016 SFF Unit Collection Report Form
Timeline
August 20, 2016 – Unit Commitment Forms Due
October – Bags available at Roundtables and Council Service Center
November Roundtables – Bags Available for pick up
November 12 – Bags Distributed to Community
November 19 – Bags Picked Up
November 25 – Unit Reports Due
District Scouting For Food Maps
Maps showing unit coverage areas by district will be linked here as soon as they are compiled.
Conestoga River
Harvest
Horse-Shoe Trail
2014 Scouting For Food Recap
Food Collected: 122,237 lbs.
Youth Participating: 1,548
Adults Participating: 1257
2013 Scouting For Food Recap
Food Collected: 135,400 lbs.
Youth Participating: 1,600
Adults Participating: 953
2012 Scouting For Food Recap
Food Collected: 130,000 lbs
Youth Participating: 1,250
Adults Participating: 1,056