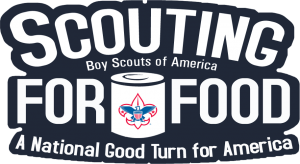 2017 Scouting For Food
Please submit Unit Commitment Form by October 27.
2017 SFF Unit Collection Report
Please submit the Unit Collection Report by December 1
Please remember….we cannot use bags from previous years, this is an issue with sponsorship. Our sponsors change from year to year and we must honor that relationship. 
Scouting for Food dates: 11/11/17 door hanger distribution, 11/18/17 food collection
The Scouting For Food committee is aware of issues involving mapping and area coverage; PLEASE help us in our effort to make this an easier activity next year. We are looking for examples of systems used for individual units. Consider submitting copies of how your unit covers an area: maps, neighborhood lists, zip code assignment etc. Send examples to Keith Weiss, kjweiss@ptd.net
Door hangers will be available in the Scout Service Center beginning the week 10/16/17; please make sure you register online prior to picking up your hangers.
Units are encouraged to use the hanger as a recruitment/outreach tool; there is space on the back of the hanger for individual unit information. Pre-printing labels would be best, the hanger measures 4 x 8 in.
Thank you for all your time and effort!!
Keith Weiss, Chair Scouting for Food- kjweiss@ptd.net
10 Tips to Improve your Scouting For Food Drive
Timeline
October 27 – Unit Commitment Forms Due
Week of October 16 – Door Hangers available at Council Service Center
November Roundtables – Door Hangers Available for pick up
November 11 – Door Hangers Distributed to Community
November 18 – Food Picked Up
December 1 – Unit Reports Due
2016 Scouting For Food Recap
Food Collected: 214,929 lbs.
2015 Scouting For Food Recap
Food Collected: 217,976 lbs.
2014 Scouting For Food Recap
Food Collected: 122,237 lbs.
Youth Participating: 1,548
Adults Participating: 1257
2013 Scouting For Food Recap
Food Collected: 135,400 lbs.
Youth Participating: 1,600
Adults Participating: 953
2012 Scouting For Food Recap
Food Collected: 130,000 lbs
Youth Participating: 1,250
Adults Participating: 1,056