Questions related to Wunita Gokhos #39 can be directed to Lodge Adviser Eric Shea (ericbshea@gmail.com) or Lodge Staff Adviser Daniel Hanson (daniel.hanson@scouting.org)
Dues and Event Registration Information
Lodge Family Banquet May 16, 2021 Registration will close on April 30, 2021. Doors open at 3PM, program starts at 4PM. Banquet has been moved to the Camp Mack Dining Pavilion.
Lodge Fellowship April 23-25, 2021 Registration will close on April 9, 2021
Lodge Spring Ordeal May 21-23, 2021 Registration will close on May 7, 2021
Section NE-6B Conclave will be a virtual event for 2021. More information will be available soon
Lodge Fall Ordeal September 24-26, 2021 Registration closes on September 10, 2021
Lodge Leadership Development November 20, 2021 Registration closes on November 5, 2021
2022 National Order of the Arrow Conference
Commemorative Lodge Flap Set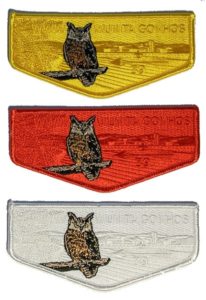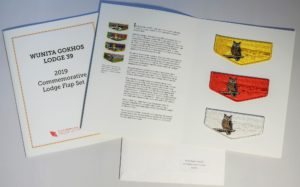 Commemorative Lodge Flap sets are available to purchase at the Council Service Center and at Lodge events.
Where to Go Camping Guide
The Wunita Gokhos Lodge has put together a Where to Go Camping Guide. This is a resource for units that are looking for places to camp. The guide can be found clicking the link below
Owl's Nest
Useful OA Links
What is the Order of the Arrow?
In 1988, the Order of the Arrow was recognized as Scouting's National Honor Society when it expanded its reach beyond camping to include a greater focus on leadership development, membership retention, adventurous programming, and broader service to Scouting and the community. Today, its service, activities, adventures, and training for youth and adults, are models of quality leadership development and programming that enrich, support, and help extend Scouting to America's youth.
Mission of the Order of the Arrow

The mission of the Order of the Arrow is to fulfill its purpose as an integral part of the Boy Scouts of America through positive youth leadership under the guidance of selected capable adults.
Purpose of the Order of the Arrow

As Scouting's National Honor Society, our purpose is to:
Recognize those who best exemplify the Scout Oath and Law in their daily lives and through that recognition cause others to conduct themselves in a way that warrants similar recognition.
Promote camping, responsible outdoor adventure, and environmental stewardship as essential components of every Scout's experience, in the unit, year-round, and in summer camp.
Develop leaders with the willingness, character, spirit and ability to advance the activities of their units, our Brotherhood, Scouting, and ultimately our nation.
Crystallize the Scout habit of helpfulness into a life purpose of leadership in cheerful service to others.
Joining the Order of the Arrow
Youth Members are elected by their fellow Scouts. A youth must meet the following requirements:
Be registered in a Scouts BSA Troop, Venture Crew, or Sea Scout Ship.
Hold at least the First Class Rank.
Have 15 days and nights of camping during the two-year period prior to election. The 15 days and nights must include one, but not more than one, long-term camp consisting of six consecutive days and five nights of resident camping, approved and under the auspices and standards of the BSA. The balance of the camping must be overnight, weekend, or other short-term camps.
Be approved by their Scoutmaster, Crew Adviser, or Skipper.
Adults may be nominated to the Order of the Arrow if they meet the following requirements:
The unit committee may only nominate adults if the unit has held a youth election resulting in at least one youth member being elected.
The number of adults nominated can be no more than one-third the number of elected youth members rounded up.  In addition, the currently serving unit leader (but not assistants) can be nominated as long as they have served as unit leader for the previous twelve months.
Adult nominees must meet the same camping requirement listed above for youth members.
Adults should not be nominated as a recognition of service or prior achievement
Adults should be nominated based on their ability to serve as a positive role model for youth members of the OA and their ability to perform the necessary functions to help the order fulfill its purpose.
Adults must be approved by the Lodge Adult Selection Committee.
Following election/nomination and approval candidates must complete an Ordeal experience.  After successful completion of the Ordeal they become members of the Order of the Arrow.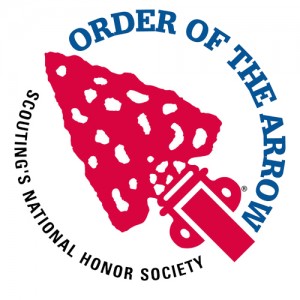 Elections may be held only one timer per year and must be conducted by a trained lodge election team .  Representatives of Wunita Gokhos Lodge #39 will contact each Troop/Team annually to set up elections usually in the spring.