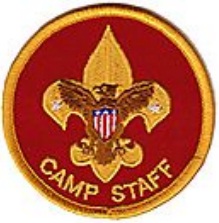 Why Work at Summer Camp?
3 Reasons to Choose a Job at a Camp Instead of a Summer Internship
Does this describe you or someone you know? You love the outdoors. You love hiking and biking and sailing. And your good friend says you're great with kids. If you relate to this, then there's the perfect place waiting for you at  Bashore Scout Reservation or J Edward Mack Scout Reservation this summer. Over half a million college & high school students will find their way from their campus to camp this summer to fill openings at camps across the United States. The Pennsylvania Dutch Council will employ over 150 Scouts and Scouters at our camps this summer!
Imagine a job where almost anything is possible
Live, play, and work in the great outdoors.
Go on active adventures.
Experience the awesome diversity of our camps.
Make new friends from all over — even from other countries.
Bank more money than you think — with few expenses.
Become a child's hero.
Learn leadership skills.
Summer Camp jobs offer invaluable skill-building, leadership, training, and enrichment opportunities that can't be found anywhere else! Regardless of your college major, camp experiences allow you to learn and develop skills that will enhance your job marketability. The benefits go far beyond a paycheck, too. Business executives often note that experience as a camp counselor translates into excellent management and personnel skills. College credit can sometimes be obtained from working at camp. Check with your college adviser to see if you qualify.
For more information on working at our camps this summer, contact Daniel Hanson, Council Program Director, daniel.hanson@scouting.org, 717-553-4205. Don't miss out on an experience of a lifetime!
How to Apply
Required Camp Staff Paperwork
For Both Camps
Required Pre-Camp BSA Training
The following online training must be completed prior to arriving at camp. Staff members will not be able to begin employment if these training are incomplete.
Each of these trainings is valid for two years. Please provide a copy of your previous training completion certificates if they are still valid.
Youth Protection Training
All staff members, regardless of age, must complete Youth Protection Training. Provide a copy of the certificate of completion with your employment paperwork. To take Youth Protection Training online go to my.scouting.org/.
Hazardous Weather Training
All staff members, regardless of age, must complete Hazardous Weather Training. Provide a copy of the certificate of completion with your employment paperwork. To take Hazardous Weather Training online go to www.my.scouting.org.
PA Required Background Clearances and Training
With the implementation of PA Act 153 of 2014, all Camp Staff members (including CITs) and camp volunteers must now complete a series of child protection clearances prior to beginning any work in which they are "responsible for the welfare of a child or having direct contact with children."  For the purpose of this law, CITs are considered employees because they are provided room and board and are under the control of the Camp Director while at Camp.
All staff members and volunteers must complete the three clearances listed below. Clearances for employment are valid for 36 months.
Pennsylvania State Police Criminal History Check – Cost $22 
(ALL)
Select "Submit a New Record Check" about half way down the page to begin the process.
On the Personal Information screen, select "Employment Screening" under Reason For Request.
Once your request has finished processing, do one of the following:

If No Record, print the Record Check Request Results page clearly showing your Control # and "No Record."
If Record, submit the report that will be mailed to you.

If you have questions about the Pennsylvania State Police Request for Criminal Record Checks form (SP4 164), please call: (717) 783-9973 or toll free 1-888-783-7972.
PA Department of Human Services Child Abuse History Clearance – Cost $8
(ALL)
Select "Create a New Account" to begin the process.
Once on the application, select "Employment with a significant likelihood of regular contact with children" as the Application Purpose.
Once completed, your results will be mailed to you in 4 to 6 weeks.  Once you receive your results, turn them in.
For questions related to the Pennsylvania Child Abuse History Clearance, please contact the ChildLine Verification Unit at 717-783-6211 or toll free at 1-877-371-5422.
Fingerprint-Based FBI Criminal Background Check – Cost $27.50
(See Below)
Required for all paid employees age 18 and over and volunteers age 18 and over helping more than one week. Required for any CIT, employee under age 18, or volunteer who has lived outside of PA in the last 10 years.

CITs and Employees under age 18 are exempt provided that they have been a continuous resident of PA for the past 10 years.  CITs and Employees under 18 in this situation must provide a DISCLOSURE STATEMENT for EMPLOYMENT which must be signed by a parent or legal guardian.
Volunteers working one week or less are not required to obtain the FBI Clearance if they have been a continuous resident of PA for the past 10 years. Volunteers in this situation must swear or affirm in writing that they are not disqualified from service based upon a conviction of an offense under § 6344. To do this complete this form and turn it in to your camp director: DISCLOSURE STATEMENT for VOLUNTEERS

PA Residents: This is a multi-step process involving first registering and paying online then going to an authorized fingerprint location.

Register online at http://www.identogo.com/locations/pennsylvania
Non-PA Residents: Fingerprint cards are the only option for out-of-state applicants. Here are the steps to take to complete the process:

Find someone (local police jurisdiction or State Police) who is able to take ink-based fingerprints and place them on FBI fingerprint cards. If you need fingerprint cards, you can download them from the FBI's website at https://www.fbi.gov/file-repository/standard-fingerprint-form-fd-258-1.pdf/view1.

Under Employer and Address enter – Pennsylvania Dutch Council, BSA 630 Janet Ave. Suite B114, Lancaster, PA 17601
Under Reason Fingerprinted enter Child Care

Register on-line by going to http://www.identogo.com/locations/pennsylvania