by BSAadmin on Saturday, March 3, 2012
For Information about Summer Camp at Bashore Click Here:

Bashore Summer Camp
For Information about Year-Round Camping at Bashore Click Here:

Year-Round Camping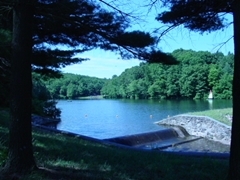 Bashore Scout Reservation is a 400+ acre Boy Scout camp nestled in the foothills of the Blue Mountains of central Pennsylvania. Surrounded by mountains and wilderness, we are in close proximity to the Appalachian Trail, while being only a short drive from major metro areas and attractions such as Lancaster's Amish Country, Hersheypark, PA Renaissance Faire, Cabela's, Bass Pro Shop, as well as Ski Round Top ski area and Fort Indiantown Gap military reservation.
Founded in 1947, Camp Bashore has earned a reputation for providing one of the Northeast Region's finest summer camp programs. Our camp features miles of hiking trails, a 5.5 acre lake that offers sailing, kayaking, canoeing, rowing, and fishing. We have an Olympic sized swimming pool, Shooting Sports ranges offering Rifle, Shotgun, Archery (3-D and traditional targets- unlike any course you've ever seen!) as well as a COPE course and Indoor Climbing gym! A nearby horse stable affords us the opportunity to offer Horsemanship Merit Badge. We offer programs for first-year Boy Scouts, experienced older Scouts, and even training for Adult Leaders- something for everyone!
We also offer year-round camping opportunities as well. We have three cabins / lodges that can accommodate from 22-40 persons. They are equipped with double bunks & mattresses, propane stove, and are heated with woodstoves (firewood is provided, though re-stocking what you use is welcomed). Water is available from frost-free hydrants. We have two campsites with Adirondack shelters, and many other campsite areas for primitive tent camping. Our Campmaster Corps offers programs to supplement your unit's program such as Rifle and Archery, First Aid, CPR, Cooking, Orienteering and other skills. Some units choose us as a base camp while exploring off-site program opportunities.
We are currently accepting reservations for 2014 summer camp. To see a list of available weeks, see here. Please use this form to reserve your Troop's spot for 2014. You can also sign up for Eagle Academy using this form.
Directions to Bashore:
Camp Address: 160 Moonshine Rd. Jonestown, PA 17038
From Lancaster: Take PA Rt. 72 north through Manheim. Continue north to split with US 322. Follow US 322 west to second traffic light. Turn right on PA Rt. 934, continue north through Annville. Pass under US 22, them pass under I-81. Continue about 3/4 mile to turn left on Asher Miner Road (Funck Family Restaurant on right opposite corner). Continue about 1 1/2 mile to stop sign. Cross intersection and you'll now be on PA Rt. 443 East. Continue about 4 miles to entrance to camp on right.
From Lebanon: Take PA Rt. 72 north through Lebanon. Continue to intersection with PA Rt. 443 West. Turn left on PA Rt. 443, continue about two miles to entrance to camp on left.
Bashore Scout Reservation Map
For a map of Bashore Scout Reservation Click Here: Map of Camp Bashore
For more information on Bashore Scout Reservation please contact the Pennsylvania Dutch Council BSA:

Contact Us