The ScoutReach program in Pennsylvania Dutch Council gives special leadership and emphasis to urban and rural Scouting programs. Focused on the cities of Lebanon and Lancaster, Scoutreach is the Council's commitment to ensure that all young people have an opportunity to join Scouting, regardless of their circumstances, neighborhood or ethnic background.
In Lebanon County we have 7 active programs, including a summer program serving youth. In Lancaster County we have 5 active programs and numerous summer programs serving  youth. In total Scoutreach serves over 600 youth.
How does ScoutReach deliver the program to the youth?
Professional staff (20 Program Specialists).
Numerous volunteers throughout the year.
What goals does ScoutReach strive to achieve?
Increased parental involvement at home and at Scouting events.
Improved academic performance and behavioral growth.
Provide positive adult role models to youth that may lack such relationships in their lives.
To assist the youth to transition into a "traditional" Cub Pack or Scout Troop, depending on their age.
Donate Here for ScoutReach 2023
Annual ScoutReach Breakfast
Date: Friday, April 21, 2023
Location: Cork Factory Hotel
Time: 7:30 am to 9:30 am
The 16th Annual ScoutReach Fundraising Breakfast is your opportunity to learn first-hand about the positive impact the ScoutReach Program has made and continues to make in the lives of children.  At our annual breakfast, current or former ScoutReach Scouts  will share their journey from the ScoutReach program to a traditional Scouting unit and how that experience impacted their lives.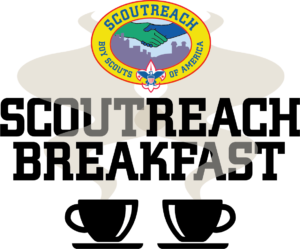 To sponsor or access the registration form for the 2023 ScoutReach Annual Breakfast, click here:
2023 ScoutReach Breakfast Registration Form
For more information about the Annual ScoutReach Breakfast or ScoutReach Programs, please contact Pat Dixon- patrice.dixon@scouting.org, ScoutReach Director.