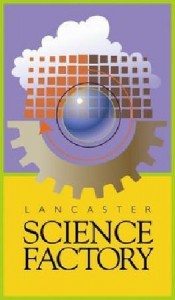 We are pleased to announce the continuation of great programs for Cub Scouts at the Lancaster Science Factory (LSF). The Cub Scout Program is broken down into the following three areas:
Provide Scouts the opportunity to earn a Science Achievement Patch using exhibits at LSF.
Provide Webelos a unique and exciting program to complete requirements to earn their Engineering Pin.
Provide opportunities for Cub Scouts and Webelos to return to LSF for further exploration and experimentation.
Science Achievement Patch: Scouts are given a worksheet directing them to exhibits. Each scout performs the necessary task, completes the answer and has their Akela initial after each activity is completed. Upon completion of the nine requirements, leaders are given patches for each scout. This program takes between two and three hours to complete and is guided by scout leaders. LSF staff members and volunteers are present to address any questions. Groups are required to pre-register to reserve their day and time, but can come any time the Science Factory is open.
Webelos Engineer Activity Pin, Single Evening Format: Every second Saturday of the month, (except July and August) from 2 – 6 p.m., Webelos have the option of completing this pin as a single evening program. Scouts are given resources needed to complete the pin requirements outlined in the Scout handbook. The activities for each requirement are directed by LSF staff and follow the information and discussion points in the adult guidebook developed and provided by the Lancaster Science Factory. Each scout is given an engineer's workbook which contains information, diagrams and space for drawings necessary for each requirement. After all requirements are complete, leaders are given the pins, which can be awarded at LSF or during a separate awards ceremony. There is an opportunity to turn this into an overnight program. Please contact the Lancaster Science Factory for more information.
Cub Scout Group and Individual Visits: This program allows scouts to visit LSF as a group or with their families to further explore and experiment with the 60+ exhibits offered. The Lancaster Science Factory is set up to encourage individual exploration and discovery, allowing scouts to engage in activities which spark a personal interest.
More information is available on the Lancaster Science Factory website (http://www.lancastersciencefactory.org) or you can email us at info@tlsf.org and call us at (717) 509-6363 for additional information.