by Daniel Hanson on Tuesday, March 7, 2023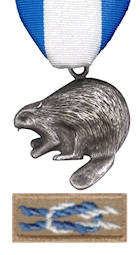 The Silver Beaver Award was introduced in 1931 and is the most significant, council level distinguished service award for adults in the Boy Scouts of America. Recipients of this award are registered Scouters who have made an impact on the lives of youth through service given to the council. The Silver Beaver is an award given to those who implement the Scouting program and perform community service through hard work, self-sacrifice, dedication, and many years of service. It is given to those who do not actively seek it.
Application are due to the Council Service Center, c/o Matt Adam or by email matthew.adams@scouting.org  by May 12, 2023.  The awards to be presented at the Annual Council Dinner – August 9, 2023
Click here for the Silver Beaver Application
Please fill out the Application completely (more info is better)   The Silver Beaver selection committee also recommends one letter of recommendation be include in the application submission.
If you have any questions please contact the Scout Service Center. 717-394-4063