by Daniel Hanson on Friday, May 8, 2020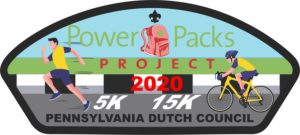 Fitness and outdoors are a part of Scouting.  While you are social distancing and Scouting at Home, participate in our Scout On! Virtual 5K Race and 15K Bike Race.
So how does it work? A virtual race can be started from any location you choose so long as you are following the social distancing guidelines.
Date: June 1-30
Registration cost: $13 per racer, proceeds will be split 50/50 between Power Packs Project and the Pennsylvania Dutch Council, BSA.
Once registered you will be emailed a racing bib with an assigned number. You will print it off and run your race. For the 5K you can run/walk on the road, trail, treadmill, or on a track. The 15K Bike race can be done on the road, trail, or a stationary bike.
You must register and complete the race by June 30th and email a race picture to nicole.welch@scouting.org or post on the Facebook event page. If you race on a trail, feel free to share where you went with your picture.
Patches will be mailed directly to you by the end of August.
You do not have to be a Scout to participate in this event and Scouts from other Councils are encouraged to participate.
This race is being held as a collaboration with Power Packs Project and half the proceeds will go to help feed children throughout Lancaster and Lebanon counties.  To learn more about Power Packs Project visit https://www.powerpacksproject.org/