by Daniel Hanson on Tuesday, March 22, 2022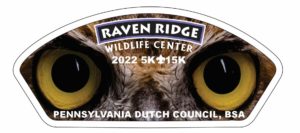 Wildlife Rehab 5K and 15K Race
Fitness and the outdoors are two big parts of Scouting.  Start your summer off by participating in our Wildlife Rehab 5K Race and 15K Bike Race.
So how does it work? The race can be started from any location you choose so long as you are following the guidelines of where you run.
Once registered you will be emailed a racing bib. You will print it off and run your race. For the 5K you can run/walk on the road, trail, treadmill, or on a track. The 15K Bike race can be done on the road, trail, or a stationary bike.
Date: June 1-15, 2022
Registration cost: $20 per racer, proceeds will be split between Raven Ridge Wildlife Center and the Pennsylvania Dutch Council, BSA.
This race is being held as a collaboration with the Raven Ridge Wildlife Center, a nonprofit located in Washington Boro, PA that offers rehabilitation services for raptors (birds of prey), mammals, and waterfowl.  They also provide a home to several non-releasable animals and provide a variety of wildlife education programs.  Half the proceeds will go to help improve enclosures and provide daily needs and veterinary care for the roughly 2,000 animals they work with each year. Raven Ridge Wildlife Center was founded in 2015 and is one of the few organizations certified by the PA Game Commission, PA Fish and Boat Commission, and US Fish and Wildlife Service to rehabilitate animals in our area of the state.  To learn more about Raven Ridge Wildlife Center visit https://ravenridgewildlifecenter.org/
You must register and complete the race by June 15th.  We ask that you email a race picture to nicole.welch@scouting.org or post on the Facebook event page.  If you race on a trail, feel free to share the location in your photo caption.
Patches will be mailed directly to you by the end of August.
You do not have to be a Scout to participate in this event.  Scouts from other Councils are also encouraged to participate.
Register for the Wildlife Rehab 5K and 15K Race Here