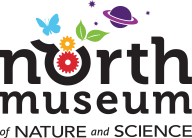 The December 4th Astronomy Workshop is full. We are working with the North Museum for another date in the future.
Calling all Boy Scouts for a star-filled cosmic experience!
Don't miss an opportunity for your Boy Scout to earn the Astronomy Merit Badge at the
North Museum of Nature and Science. Save the date for Saturday, December 9 from 12:00 – 4:00 pm.
• Event will meet all the requirements for the Astronomy Merit Badge, including some pre-workshop assignments
• Scouts will get to experience our revolutionized planetarium, the SciDome Theater for all of the requirements
• Arrive early and explore the Museum and catch a SciDome show
• Admission includes general Museum admission. Planetarium show tickets are an extra $4 per person per show
Registration Deadline: Saturday, December 2 Register online at northmuseum.org/boyscouts
Pricing: Boy Scout: $20 Adult: $9 Other Children: $8
– Event pricing includes general Museum admission.
– Special discounts and coupons are not applicable for this program
North Museum member — Scout: $12
North Museum members — adults & other children: FREE
Important Notes:
• Participating Boy Scouts are asked to wear their uniform
• Allow ample time for parking. Parking is primarily street parking
• There is limited seating for the astronomy workshop and is first-come, first serve
• Merit Badge workshop is from 12 pm to 4 pm, but scouts can arrive at any time prior to the workshop
(Museum opens at 10 am)
• Actual Boy Scout badge is to be provided by scout leader
• Scouts must be accompanied by an adult. Recommended minimum ratio is 5 scouts to 1 adult
• Planetarium shows are an additional cost of $4 per person per show for non-North Museum members and
require a ticket. Complete show schedule can be found on the Museum website at northmuseum.org
• Planetarium show tickets are available for purchase onsite only
For more information or to register via phone, contact info@northmuseum.org or 717.358.3941
Interested in becoming a North Museum member?
Visit the Museum website at northmuseum.org for more info or sign up today!