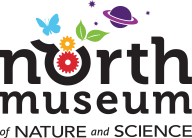 Calling all Boy Scouts for a star-filled cosmic experience!
Don't miss an opportunity for your Boy Scout to earn the Astronomy Merit Badge at the
North Museum of Nature and Science. Save the date for Saturday, April 14 from 12:00 – 4:30 pm.
• Event will meet all the requirements for the Astronomy Merit Badge, including some pre-workshop assignments
• Scouts will get to experience our revolutionized planetarium, the SciDome Theater for all of the requirements
• Arrive early and explore the Museum and catch a SciDome show
• Admission includes general Museum admission. Planetarium show tickets are an extra $4 per person per show
Registration Deadline: Saturday, April 6 Register online at northmuseum.org/boyscouts
Pricing: Boy Scout: $20 Adult: $9– Special discounts and coupons are not applicable for this program
– To accommodate as many scouts as possible, workshop is only open to the Boy Scout earning the badge
and their adult(s) who are attending
– All adults attending must be with the Boy Scout in the planetarium during the workshop sessions
North Museum member — Scout: $12
North Museum members — adults: FREE
Scouts to do list prior to workshop:
• Bring blue card signed by unit leader
• Partially complete blue card with the info found on our website northmuseum.org/boyscouts prior to event
• Complete requirement 5a and 5b prior to workshop and submit to cosmicmike@northmuseum.org by April 6
• Requirement 5a and 5b details are available on our website at northmuseum.org/boyscouts
Planning for arrival:
• Scouts and their adults can arrive anytime after 10 am to explore the Museum prior to workshop
• Please plan to eat lunch prior to workshop
• Please arrive by 11:45 am to check-in—Workshop will begin promptly at Noon
• Allow ample time for parking – Parking is limited to street parking due to nearby construction
• Scouts are asked to wear their Boy Scout uniform
Workshop:
• Workshop will be taught by North Museum's Mike Smith, aka Cosmic Mike®, a certified Merit Badge Counselor
• Merit Badge Counselor will be signing off on their card the day of workshop
• During the 15-min workshop breaks, Scouts will also have the opportunity to explore the Museum
• All adults attending must be with scout in planetarium during workshop sessions
• Scouts must be accompanied by an adult. Recommended minimum ratio is 5 scouts to 1 adult
For more information or to register via phone, contact info@northmuseum.org or 717.358.3941
Interested in becoming a North Museum member?
Visit the Museum website at northmuseum.org for more info or sign up today!