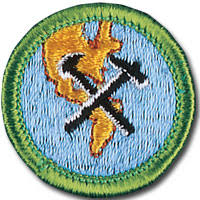 The Lancaster County Park System is offering Geology Merit Badge on Saturday, February 17, 2018. Here is more information:
Geology Merit Badge
Saturday, February 17, 9:00 AM – 5:00 PM
Environmental Center, 1 Nature's Way, Lancaster  
Class is limited to 15 Scouts
Are you a Boy Scout interested in completing the Geology Merit Badge? Naturalist and Merit Badge Counselor Mary Ann Schlegel has a full day of activities planned to satisfy badge requirements. We will begin at the Environmental Center exploring rocks, minerals, and geologic maps. After lunch, we will tour Rohrer's Quarry to discover the intricacies of their operation as well as career opportunities in geology. On the way back to the Environmental Center, participants will discover an impressive display of fossiliferous rocks underfoot right here in Lancaster City! Dress for the weather. Bring lunch and snacks, a water bottle, and a field notebook. Call (717) 295-2055 to register and prepay by noon on Wednesday, February 14. $10.00 per scout and $2.00 per adult; no charge for adults transporting scouts to the quarry.