by Daniel Hanson on Monday, August 26, 2019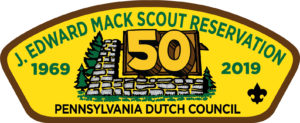 Purchase special items created to celebrate the Camp Mack 50th Anniversary. All items are being pre-ordered and can either be picked up at the Pennsylvania Dutch Council Service Center or shipped when the items are ready. Only orders that are paid for by September 30, 2019 will be processed. We suspect items will not be available until January 2020. All profits will go back to support projects at Camp Mack.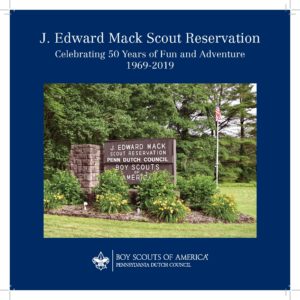 Camp Mack Book Cover
We have four great items available to purchase.
Camp Mack coffee table memories book: This book is filled with stories about Camp Mack and pictures from the first 50 years of Camp Mack. This book includes stories from people who helped to build the camp through stories of the 50th Anniversary Celebration.
Engraved Aluminum Pool Token: Own a piece of the original Camp Mack pool. The original pool served Camp Mack for 50 years and was unique as it was made of aluminum panels that were welded together. As we replace this pool with a new pool for the next 50 years of Camp Mack we are offering an opportunity to own a piece of history. The aluminum will be engraved with a logo celebrating Camp Mack's 50th Anniversary.
Camp Mack 50th Anniversary Council Shoulder Patch (CSP): We wouldn't be good Scouts without creating a patch to celebrate. Collect this special patch celebrating the 50th Anniversary of Camp Mack. It is designed utilizing the colors and similar look to the original 1969 Camp Mack neckerchief.
Camp Mack 50th Anniversary Poster: A poster of the 50th Anniversary logo used on the summer camp t-shirt. This poster is numbered and signed by the designer, James Castanzo. Only 50 posters have been signed and numbered.
Poster Image
Items will be available online to purchase until September 30, 2019. All orders must be paid for by September 30, 2019. After September 30, 2019 we may have extra items available to purchase in the Council Service Center.
Once the items have arrived we will contact you to let you know when items will be shipped or available for pick.
For more information or if you have any questions please contact Daniel Hanson, daniel.hanson@scouting.org.