by Daniel Hanson on Thursday, May 30, 2019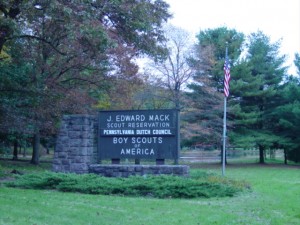 Edward Mack Scout Reservation (Camp Mack) turned 50 years old in 2019 welcoming its first group of scouts to summer camp in 1969.
All during the summer camping season, Camp Mack will be using the theme of Happy Birthday for all our cub scouts returning to Camp Mack or experiencing the fun and adventures for the first time.
To bring the summer camping season to an end,  the Pennsylvania Dutch Council is hosting a 50th anniversary celebration to all scouters, old and new, their families and all friends of scouting.  The open house event will be held on August 17th at Camp Mack.  The event is at no cost, however, we ask that you register so we can plan for parking, staff and light hors'de oveures, etc.
Events during the day include:
Camp Tours
Alley Action Center including open ranges, GaGa Pit, human Fooseball and bmx track.
Open Pool to take the last dip in the original 50 year old pool.
Review of Scout Memorbilia from Camp Mack.
Unveiling of new time campsule to by buried shortly after the open house – leave notes or pictures for scouting in 2044 when the capsule will be re-opened.
Dedication of a new pool.
Light refreshments.
Closing Campfire.
Activities will be open from 2:00PM to 5:00 PM with light refreshments and dedications beginning at 5:00 PM.  Closing campfire to begin at 7:00PM.
Camp Mack will be open for camping by troops and packs during that weekend.  Reservations MUST be made on Tentaroo to use the camping sites and cabins.
Camp Mack 50th Anniversary Flyer
Want to HELP with the weekend?!?! We are looking for:
Packs/Troops/Crews to provide a few pre-approved skits and/or songs for the campfire.
Parking lot attendees.
Welcoming committee.
Wagon driver to give tours of camp (must be over 18).
ANY pictures of Camp Mack that you can share.
If interested in helping please email Randy Wirth at Woodbadge15@comcast.net.
Stories from Camp Mack
We will be sharing stories from Camp Mack throughout the year as we celebrate the 50th Anniversary. Click the links below to see those stories. Stories reported by Bill Hannegan
The Eastern District (BIG E) Started the Winter Events Story from Tom Williams
Pool at Camp Mack Makes Camp Unique Story from Tom Williams
Ed Carvell's camping spirit fuels Ride For Camps Story from Ed Carvell
Retiree in Tennessee recalls roots in Lancaster County Story from Bob Denlinger
Musser carved out roads, building sites at Mack Story from Titus Musser
Share your memory of Camp Mack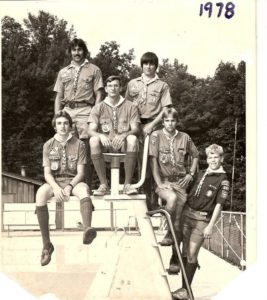 Right after you save the date to attend the 50th anniversary celebration of J. Edward Mack Scout Reservation on Saturday, Aug. 17, 2019, please consider sharing a memory and/or a photo or video.
Your contribution affirming the Scout Oath and Law can be a single sentence saluting Camp Mack, the snapshot of you and a buddy, or a hair-on-fire camp adventure captured on video.
Please contact Bill Hannegan for more information at hanneganb@gmail.com
What you share is your chance to be part of Camp Mack's Facebook page,  Pennsylvania Dutch Council's Facebook page and council's Scouter Focus. It's your chance to be included in the time capsule that will be sealed and buried as part of the 50-year observance.
These online sites will be where organizers of the open house will promote the event. For example:
Did You Know? J. Edward Mack joined Scouting in 1914 and earned the first Eagle Scout Award in Lancaster County in 1917.
Fun Fact: Hot embers used to the light the fire at Camp Mack's dedication ceremony in 1968 were carried by Scouts running a relay from Camp Chiquetan south of Millersville to the council's new property north of Brickerville.
The Pennsylvania Dutch Council website will be where longer written pieces will appear. For example, interviews have been completed with those Scouters who witnessed recent events and those who recall tales from more than 50 years ago. More interviews are planned.
There is to limit on what can be posted online. Imagine 3 paragraphs introducing a post and a link to the full story.
To share, contact Bill Hannegan at hanneganb@gmail.com